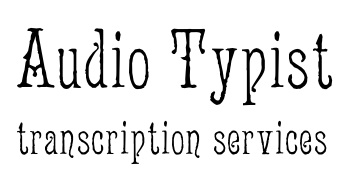 The service
We will type your recorded interviews, focus groups, or dictations from any type of sound or video file.
To get started
Share information about your project, and we'll figure out the best way to transmit the file. Current online options are listed here. Mail, FTP, or in-person delivery (in the Boston area) is also welcome.
The rate
$1.75 per recorded minute. It takes about three working minutes to transcribe each recorded minute.
The audio typists
Jennie Gottschalk has done contract transcription work for numerous publications, as well as academic, business, and family history projects. She has worked as a research assistant to two published authors, and as an editorial assistant at Wellesley magazine. She received her doctorate in music composition in June 2008. More information is available at jenniegottschalk.com
Michelle Lou has worked as a teaching assistant in college level writing courses, in non-profit development, and as a freelance copywriter. She received her doctorate in music composition from Stanford University and is currently based in NYC. Michelle is using transcription work to support her freelance musical activities. More information can be found at michellelou.com.
To find out more
Resume and references are available upon request.
Email jennie (at) audiotypist.net or michelle (at) audiotypist.net, fill in the online form, or leave a phone message using this button: